Offer valid from:

13 July 2020

till

04 September 2020

Travel period from:

13 October 2020

till

26 March 2021

Min number of days:

TRAVEL FROM TURNAROUND MUST COMMENCE NO EARLIER THAN 5 DAYS AFTER DEPARTURE FROM FARE ORIGIN.

Max number of days:
Non-refundable:

No

Changes for a fee:

No
prices from
€57300

Etihad Airways
This offer is the lowest possible rate for this destination. Choose your flight days to see if this offer is available for your travel period. Due to frequently changing airport taxes, some price differences may occur. If the offer is not available we will offer an alternative to this.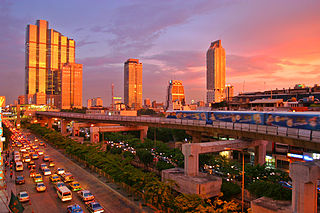 Bangkok
Bangkok is the capital and the most populous city of Thailand. Over fourteen million people (22.2 percent) live within the surrounding Bangkok Metropolitan Region, making Bangkok an extreme primate city, dwarfing Thailand's other urban centres in terms of importance.
The Asian investment boom in the 1980s and 1990s led many multinational corporations to locate their regional headquarters in Bangkok
The city is now a major regional force in finance and business. It is an international hub for transport and health care, and is emerging as a regional centre for the arts, fashion and entertainment. The city's vibrant street life and cultural landmarks, as well as its notorious red-light districts, have given it an exotic appeal. The historic Grand Palace and Buddhist temples including Wat Arun and Wat Pho stand in contrast with other tourist attractions such as the nightlife scenes of Khaosan Road and Patpong. Bangkok is among the world's top tourist destinations. It is named the most visited city in MasterCard's Global Destination Cities Index, and has been named "World's Best City" for three consecutive years by Travel + Leisure magazine.

Bangkok's rapid growth amidst little urban planning and regulation has resulted in a haphazard cityscape and inadequate infrastructure systems. Limited roads, despite an extensive expressway network, together with substantial private car usage, have resulted in chronic and crippling traffic congestion. This in turn caused severe air pollution in the 1990s. The city has since turned to public transport in an attempt to solve this major problem. Four rapid transit lines are now in operation, with more systems under construction or planned by the national government and the Bangkok Metropolitan Administration.
*Source of information: Wikipedia.